How to set up Zoiper on IOS
You must be either a "Supporting Member" or "Lifetime Member" to have RoIP (Radio over IP) access to the repeater system. PLEASE NOTE: Your username and password information will be emailed to you in a separate email. Setup and activation of IAX remote access is not automated, so please be patient as it may take a few days to get you setup on the server.
Setting up your Android device with DVSwitch
You can use the following procedures to:
Download and install Zoiper on your IOS device,
Set up the program options, and
Talk through the repeater from your IOS device.
Installation
Download and install the DVSwitch Mobile application from the Google Play Store.

The app will downloads and installs on your device.
Account Setup
Open the Zoiper app.
Click Settings.
Click Accounts.
Click the + in the upper right corner.
You'll be prompted "Do you already have an account (username and password)?, click Yes
Click Manual configuration
Click IAX account
Account name is Texas GMRS Network
Server is roip.texasgmrs.net
User name is your GMRS callsign (Theuser name is case sensitive)
Password is the password emailed to you (not the same password as this website) (The password is case sensitive)
Caller ID is your GMRS callsign (in UPPERCASE letters here)
Leave all other settings as they are, click Register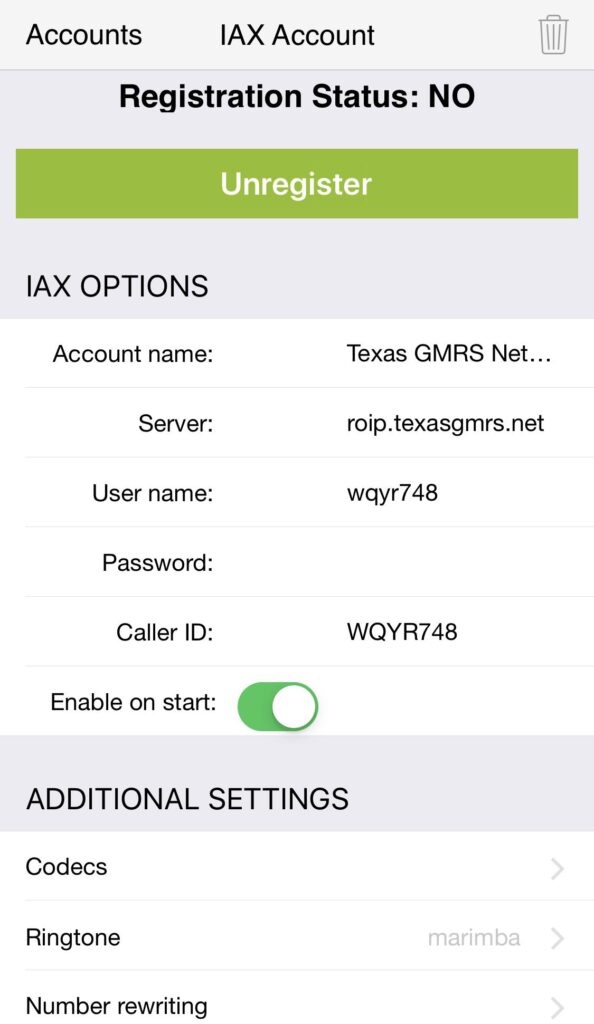 Connecting
Go back to the main Dialpad screen. 
To "Call" the repeater system, dial 1000. You will hear "Welcome, node connected."
Transmitting
Once connected, the code to begin transmitting is *99, and # to stop transmitting. You will not hear a courtesy tone.
VERY IMPORTANT: You must, must, must, push # (pound sign, hash tag, whatever you want to call it) to stop transmitting. If you don't it will lock up the repeater system, causing issues.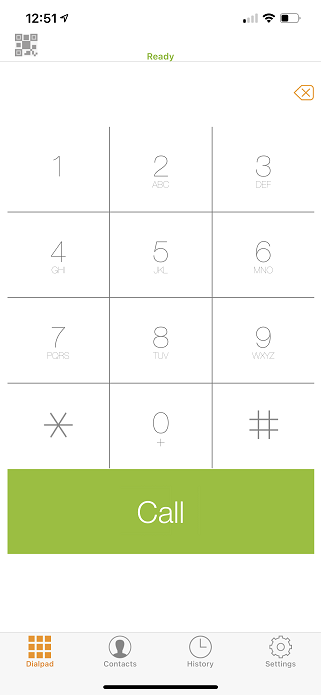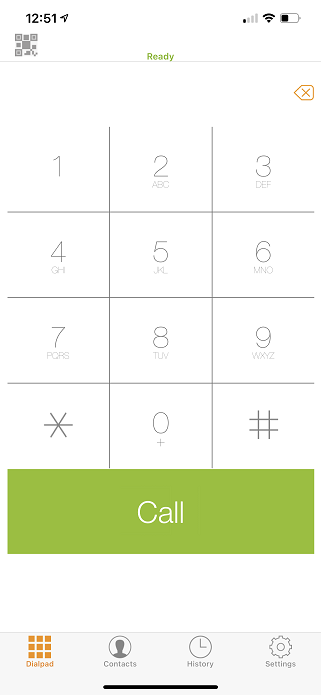 Disconnecting
Select End to disconnect from the host computer.